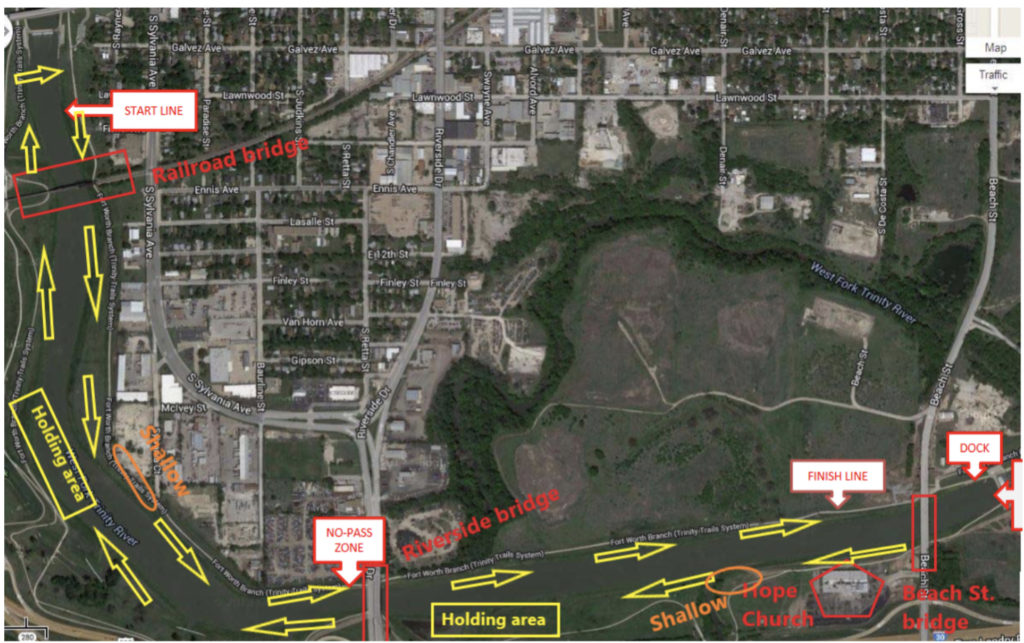 Friday, Sept 24th:  The venue at Beach St will open up at 3pm.  The race-day traffic pattern (essentially clockwise) will be in effect during this practice time.  After you launch, row to the south bank and remain on that side of the river as you row underneath the Beach Street, Riverside, and railroad bridges.  Just beyond the railroad bridge is a low-water dam.  Cross to the other side of the river just prior to the dam, around the north side of the Buoys  ; that is where the run-up area for the starting line is located.  Begin rowing back and remain on that side of the river back to the finish line, which is located prior to the Beach Street bridge.
We will have overnight security at Beach Street. 
Saturday: 
6:30am Registration Opens.
7:00am  Safety Meeting (boathouse) 
9:00am:  University Crews Safety Meeting (boathouse)
Safety Highlights:  The regatta will have one way traffic west of the Riverside Bridge.   To accommodate for this traffic restriction, we have 5 waves of races starting at the top of every hour (8am through noon).  We will launch crews early to help reduce congestion in the dock area, so please try to get on the water early.  M1X rowers (8:00 wave); you'll need to be ready to go either before the safety briefing or very shortly afterwards in order for us to start on time.   Crews in the 9:00-12:00 waves should expect to hold on the south shore just east of the Riverside Bridge until rowers in earlier events have raced past. (Hold Area 1).   The "Safety Boat" will give you the "all clear" to head west of Riverside up to the start. 
Several waves with large numbers of participants will be further split enroute to the start line to allow for enough maneuvering room in the start area north of the railroad bridge.  The second half of those specific waves will remain in holding area 2 until cleared by the Safety boat to head to the start.  We will highlight which waves will have their starts split during the safety meeting.  Please be acutely aware of your start time and make note of the bow numbers of other boats preparing to launch, particularly those of you with 8:00 start times; there will be 27 boats making their way to the start line in that wave, so knowing where you should be relative to other rowers in your wave of events will be important!  There will be dockmasters directing traffic in the dock area, but good awareness will help make launching proceed more efficiently and keep the regatta on time.  The race order is attached to this email, so please take a look.  Plan on launching 30 + minutes prior to your start time.
There is a "no passing" area by the Riverside Bridge. The one course timing penalty is a 30 second "Unsportsmanlike" penalty for anyone who causes a collision.