---
SPRING 2021:
Feb, 13, 2021: Shocker Sprints:  1,000m Team.  2,000m ERG Race,   Virtual 
March TBD:   TCU VS Baylor Scrimmage (Tentative)
April, 17, 2021: Texas Rowing Championships: 1,000m Sprints. Austin.  (Limited University events)
April, 17-18, 2021 SIRA 2021: SIRA Championship Regatta. Oak Ridge TN
May, 15th, 2021:  Heart of Texas: 1,000m Sprints. Austin.
—————————————-
FALL 2020:
Rowers all 1X Certified:               By start of Oct.
Concept 2: Fall Challenge"          Sept 15th – Oct 15th.
OKC 4,000m:                                 Oct3rd: (3D virtual 4,000m, for top four in each event)
SteerHead:                                      Oct 17th, Fort Worth TX   (3,000m)
Head of the Fish:                           Oct 31st:  On water and virtual 3,200m  (details below)
Head of the Hooch:                       Nov 7th.  Virtual Race (3D Race Course- details below).

Row to Tokyo 2k:                           Nov 14th.  (ERG or water)
Please find additional details to some of the events below!
—————- Cancelled water events—————-
Pumpkin Head:   Oct 31st, Austin TX  (5,000m)  (Cancelled)
Head of the Brazo's:                      Date TDB,  Waco TX (5,000m) (Cancelled)
Annie trains in 1X @ MCL.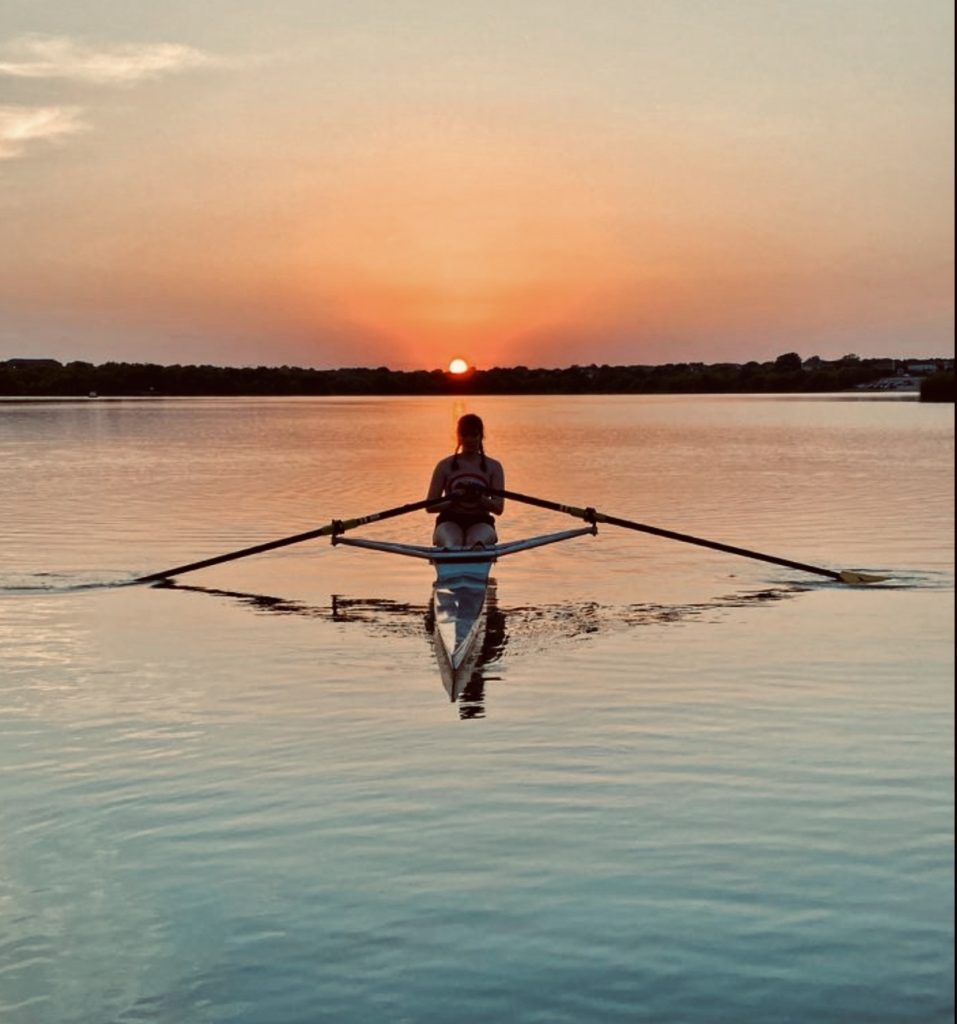 Head of the Fish 2020 – The Virtual Halloween edition
In this extraordinary year, the Head of the Fish will be running a different type of regatta! A spooktacular event on Halloween weekend! All competitors (from around the world!) will be offered the chance to win one of the famous fish head trophies while competing virtually on their home water. As it is Halloween weekend, prizes will also be awarded to the fan favorite costumes. In a year where there is a lot that has been missed, lets not miss out on the fun. Coordinate with your pod of rowing friends, dress up to bring smiles to yourselves and the rowing community, and make your boats go fast! When you boil it down – in the fall – through rowing, we find social connection, work hard to go fast, and have fun… then we look on our phone and wait to see how we did. Head of the Fish 2020 – same as it ever was (but spookier) Race Date: From Friday morning Oct 30th at 6 am eastern standard time through Sunday afternoon Nov 1st at 12 pm eastern standard time. Race Distance: 3200 meters exactly as recorded by a GPS of your choosing. Head of the Fish is sponsored by Coxmate GPS. If you need a gps to record your time, the Coxmate GPS is our GPS of choice. Accurate and AFFORDABLE, we use them in Saratoga – especially this summer when we had LOTS of singles on the water. Race Format: During the window described above, each crew can compete in as many races for you wish to register, or try a few times to achieve better scores in one race on different days (you only need to submit your fastest time). It is allowed to race in multiple races and it is encouraged (but not required) to race in costume. Times and pictures of your time on GPS will be submitted via a google form along with costumed crew pictures and video (the crew pictures and video will open you up for additional prizes, but are not required). Race results: Our team of eagle eyed timers and professional judges will review the times in each event and select the cream of the crop of costumes. The winning times will be posted with the winners receiving a fish head trophy.. the top costumes will be voted upon by the public on the @saratogarowing instagram feed. Winning costumes will receive prizes as well. Erging?: We are fortunate in the northeast USA to be able to run a few types of boat classes on the water, we understand that some programs are still in singles or even off the water. We do have 3 events to be completed on the ergometer. The ERG single = 3200 meters all by yourself The ERG Mixed quad = 3200 meters as 4×800 meters. 2 men, and 2 women. doing 800 meters each The ERG eight = 3200 meters as 8×400 meters. 8 people doing 400 meters each and one coxswain good at math This is not a trick! Head of the Fish 2020 is the treat that will make Halloween 2020 one to remember for what we DID to instead of what we DIDN'T do. Start planning your costumes now.
The Head of the Hooch® regatta is excited to announce that it is partnering with HereNow to bring you the 2020 Virtual Head of the Hooch. The event will be held on Saturday November 7th with a second day of events on Sunday if warranted by registration. You will experience a virtual race through a 3D rendering of the Hooch course on the Tennessee River being developed by HereNow. Competitors will start in a head race fashion chasing the boats ahead of them down the course. There will be events in 8s, 4s, 2s, and 1x for open, collegiate, youth, and master's categories. Registration will be open from October 5th – 25th on Regatta Central. The cost will be $20 per seat and gold medals will be awarded to the winners of each event. A portion of the proceeds will be donated to the Tennessee River Gorge Trust, a non-profit conservation organization protecting the land along the Tennessee River in Chattanooga.
XXXXXXXXXXXXXXXXXXXXXXXXXXXXXXXXXXXXXXXXXXXXX

SPRING 2020:
SWEAT 2,000m ERG Race: Saturday Feb 1st. Dallas
DUE TO COVID 19 the remainder of the events were cancelled.
Heart of Texas: 1,000m Sprint Feb29th: Austin
Baylor Invitational. Waco. April 4th
SIRA OAK RIDGE TN. April 18TH-19th
Schedule for Fall 2019:
Sept 28th:  SteerHead.  3,000m  Fort Worth Trinity River
Oct 5th/6th:  OKC: 4,000m Head Race & 500m Night Sprints. 
Oct 26th: Austin:  Pumpkin Head. 5,000m
Nov9th: Waco: Baylor's Head of the Brazo's 5,000m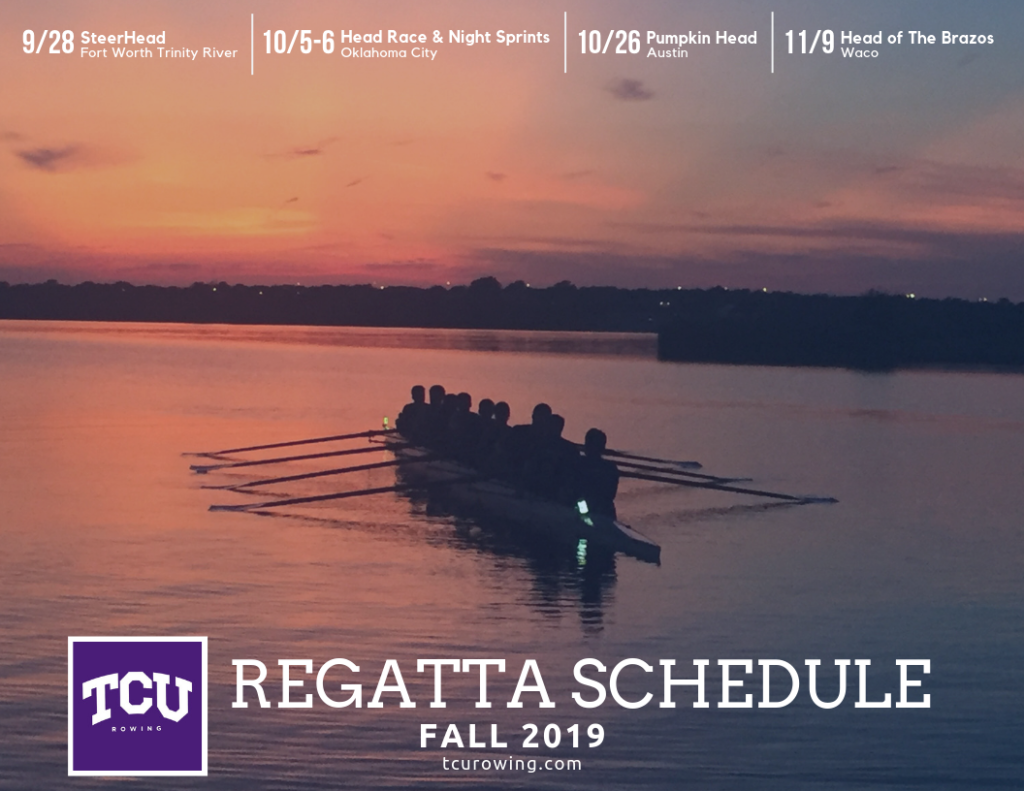 —————————————————————
Spring 2019: Sprint Season.
SWEAT ERG Sprint Feb 2nd.  Dallas @ Jesuit HS
Heart Of Texas:  March 2nd:  Austin TX.
Baylor 2K Scrimmage. Late March. Waco TX.
Texas Rowing Championship:  April 13-14. Austin TX
SIRA:  April 19-20 Oak Ridge TN.
XXXXXXXXXXXXXXXXXXXXXXXXXXXXXXXXXXXXXX
Fall 2018 Regatta Schedule.
Steerhead: Sept 22nd. Fort Worth
OKC Head Race:  Sept 29-30.  Oklahoma City
Head of the Brazo's:  Oct TBD.  Waco
Pumpkin Head:  Oct 27th. Austin
—————-———————————-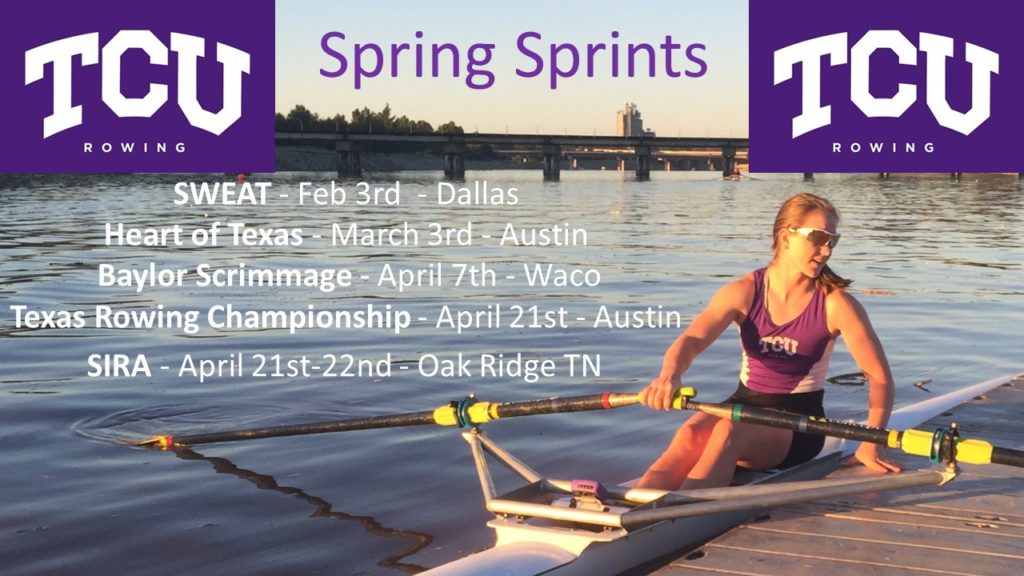 Spring 2018:  
Feb 3rd:  SWEAT (2K ERG Race),  Dallas
March 3rd/4th: Heart Of Texas:  Austin
April 7th:  Baylor Scrimmage
April 21-22: Texas Rowing Championship Austin.
April 21-22: SIRA
Fall 2017 Schedule
Oct 7th-8th:  OKC: Novice & Varsity.
Oct 14th: Head of the Brazo's
Oct 28th: PumpkinHead. Austin.
Dec 3rd:  ROW HO HO
---
Spring 2017 Sprint Season: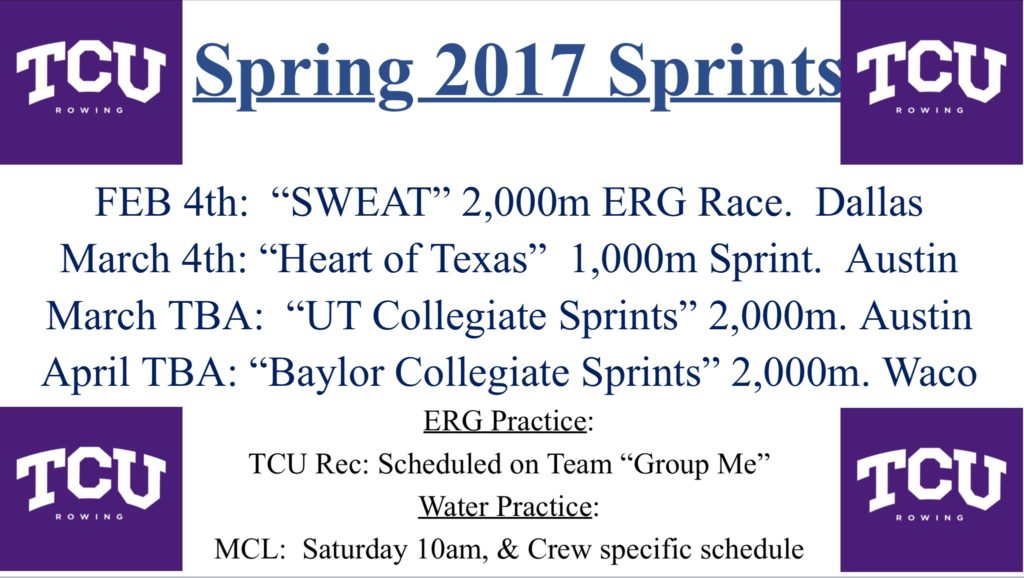 Feb 4th:  SWEAT in Dallas (2000m indoor Race)
March 4th:  Heart of Texas. Austin. (1,000m)
April 22nd:  UT Inventational (2,000m) Austin
April 23rd: Texas Rowing Championships. Austin. (1,000m)
————————————————————-
TTTTTTTTTTTTTTTTTCCCCCCCCCCCCCCUUUUUUUUUUUU
Spring 2016 Events:
1- Feb 6th. SWEAT Indoor Rowing Race. (Dallas)
2- March 5-6. Heart of Texas.  (Austin).
March 7-11.   Spring Break
– March 26th.  University of Texas Rowing Club Invitational.  (Austin)
– April 9th. Baylor Scrimmage  (Waco)
– April 16. Fort Worth Rowing Club Scrimmage.
May 6th: End of year party.
TTTTTTTTTTTTTTCCCCCCCCCCCCCCCCCCCCCCCCCCCCCUUUUUUUUUUUUUUUUUUUUU
Fall 2015 Events:  
Oct 3rd & 4th:  OUs Head Race.  (Plus 500m Sprints under the lights).  OKC
Oct 10th: Head of the Brazos.  Waco/Baylor
Oct 31st: Head of the Colorado.  Austin/UT
Dec 5th: Row HO HO.  Fort Worth
——————————————————
Race Events for Spring 2015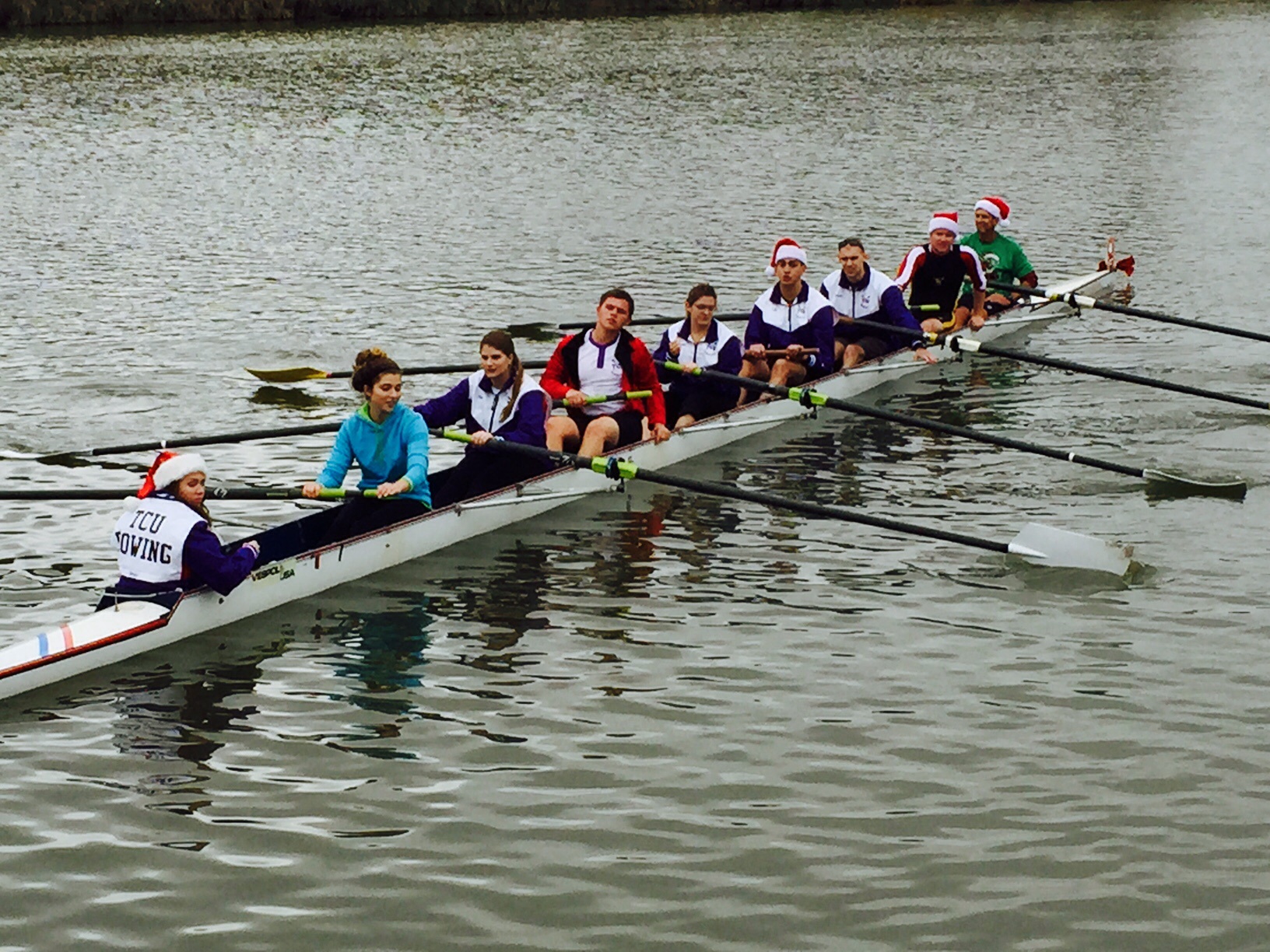 – Feb 7th: SWEAT (Southwest Ergometer Amateur Tournament) Dallas (2,000m ERG). -TCU Received two Golds & toe Silver
-March 21st: BLAST Regatta Changed from Sunday to Saturday!
(Bachman Lake Annual Sprint Trials).  Dallas (1,000m Sprint)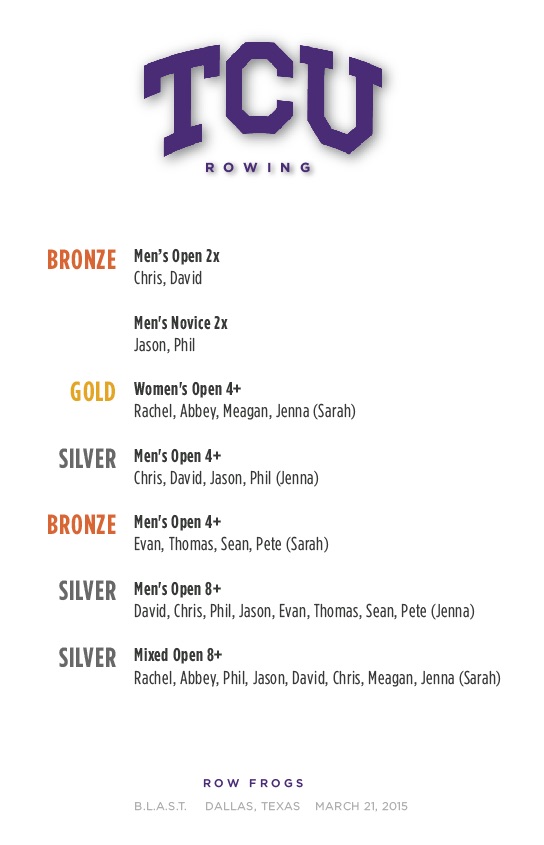 – March 28th: UT Invitational "Red Bud Round Up"
Austin (2,000m) (Thanks to UT for the use of the 8)
<ahref="https://www.tcurowing.com/wp-content/uploads/2015/03/image3.jpg">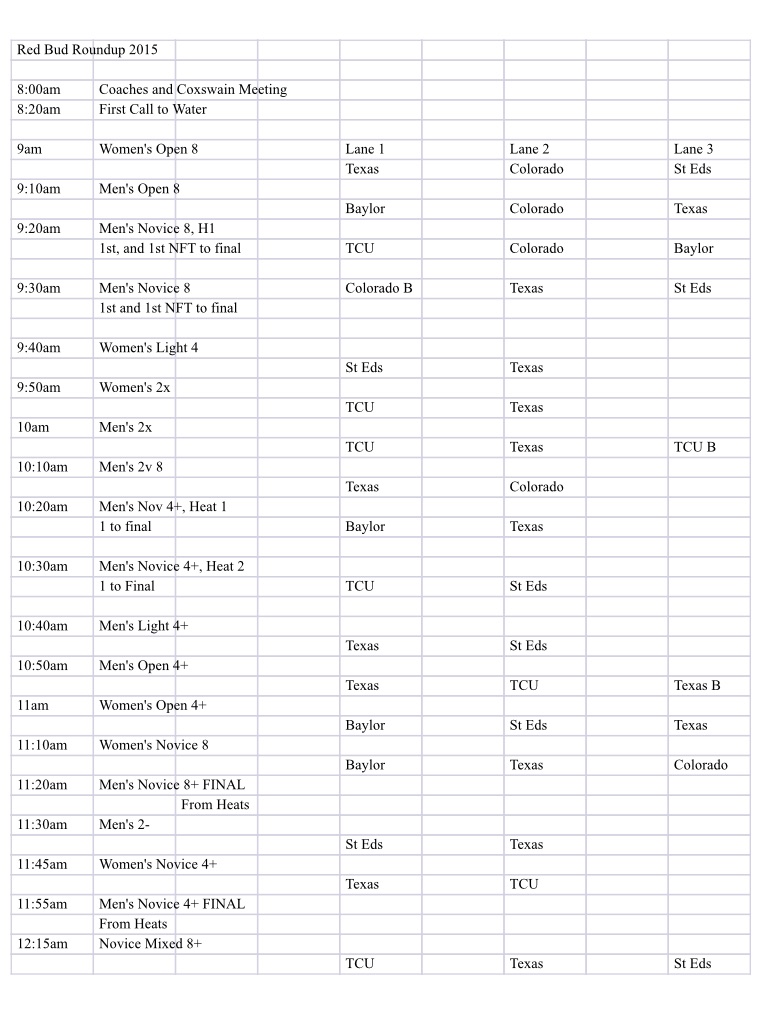 – April 18th-19th*: TEXAS ROWING CHAMPIONSHIP:  Austin TX. (1,000m Sprint)
For Weekly Training Schedule see Calendar page.