---
FALL 2020:
Rowers all 1X Certified:               By Sept Sept 26th.
Concept 2: Fall Challenge"          Sept 15th – Oct 15th.
OKC 4,000m:                                 Oct3rd: (virtual 4,000m)
SteerHead:                                      Oct 17th, Fort Worth TX   (3,000m)
Pumpkin Head:                              Oct 31st, Austin TX  (5,000m)
Head of the Brazo's:                      Date TDB,  Waco TX (5,000m)
Annie trains in 1X @ MCL.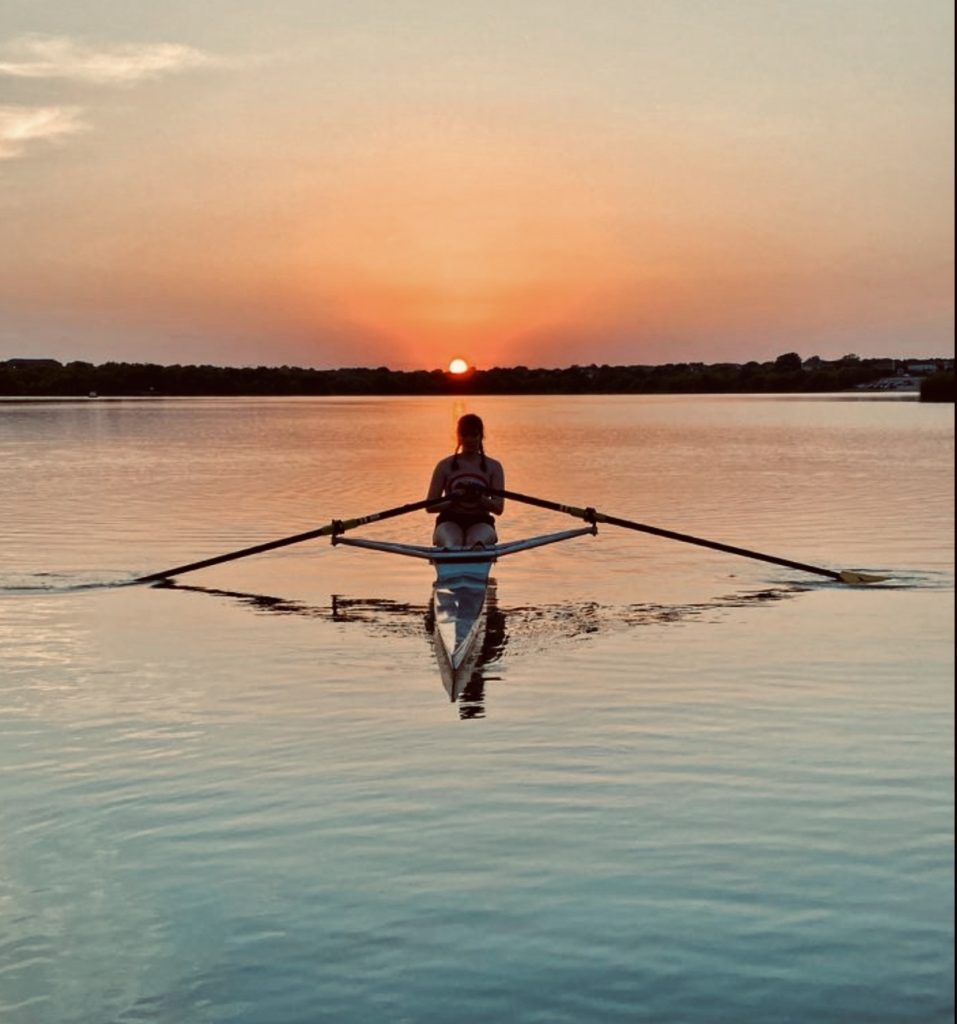 XXXXXXXXXXXXXXXXXXXXXXXXXXXXXXXXXXXXXXXXXXXXX

SPRING 2020:
SWEAT 2,000m ERG Race: Saturday Feb 1st. Dallas
DUE TO COVID 19 the remainder of the events were cancelled.
Heart of Texas: 1,000m Sprint Feb29th: Austin
Baylor Invitational. Waco. April 4th
SIRA OAK RIDGE TN. April 18TH-19th
Schedule for Fall 2019:
Sept 28th:  SteerHead.  3,000m  Fort Worth Trinity River
Oct 5th/6th:  OKC: 4,000m Head Race & 500m Night Sprints. 
Oct 26th: Austin:  Pumpkin Head. 5,000m
Nov9th: Waco: Baylor's Head of the Brazo's 5,000m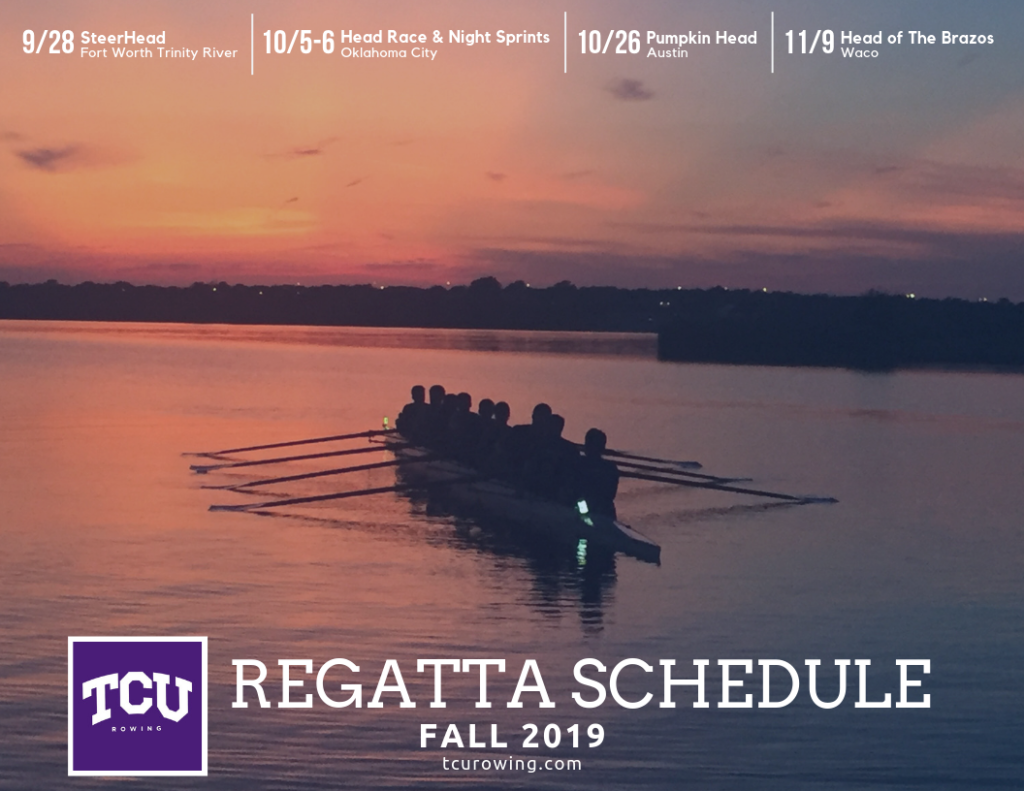 —————————————————————
Spring 2019: Sprint Season.
SWEAT ERG Sprint Feb 2nd.  Dallas @ Jesuit HS
Heart Of Texas:  March 2nd:  Austin TX.
Baylor 2K Scrimmage. Late March. Waco TX.
Texas Rowing Championship:  April 13-14. Austin TX
SIRA:  April 19-20 Oak Ridge TN.
XXXXXXXXXXXXXXXXXXXXXXXXXXXXXXXXXXXXXX
Fall 2018 Regatta Schedule.
Steerhead: Sept 22nd. Fort Worth
OKC Head Race:  Sept 29-30.  Oklahoma City
Head of the Brazo's:  Oct TBD.  Waco
Pumpkin Head:  Oct 27th. Austin
—————-———————————-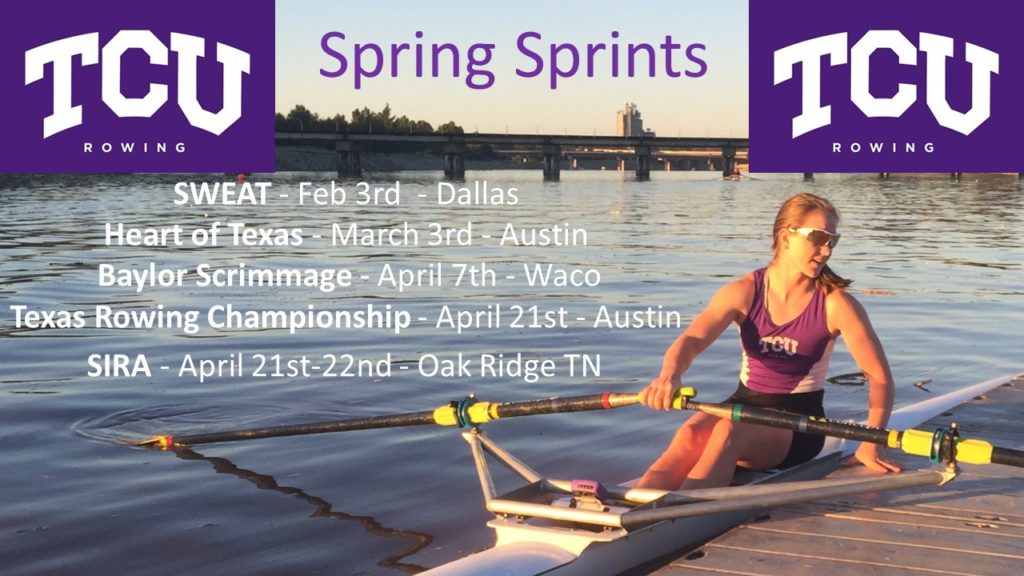 Spring 2018:  
Feb 3rd:  SWEAT (2K ERG Race),  Dallas
March 3rd/4th: Heart Of Texas:  Austin
April 7th:  Baylor Scrimmage
April 21-22: Texas Rowing Championship Austin.
April 21-22: SIRA
Fall 2017 Schedule
Oct 7th-8th:  OKC: Novice & Varsity.
Oct 14th: Head of the Brazo's
Oct 28th: PumpkinHead. Austin.
Dec 3rd:  ROW HO HO
---
Spring 2017 Sprint Season: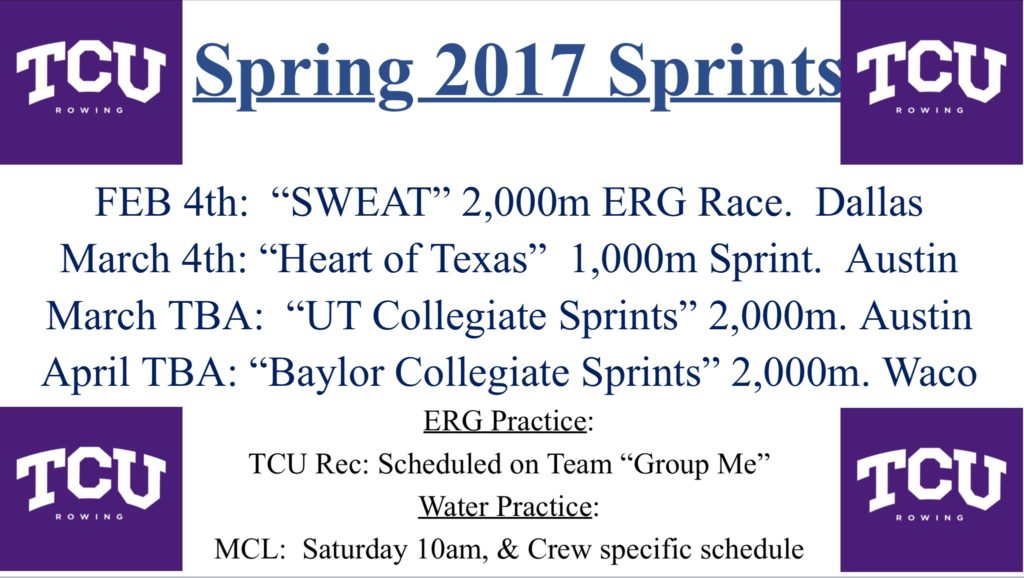 Feb 4th:  SWEAT in Dallas (2000m indoor Race)
March 4th:  Heart of Texas. Austin. (1,000m)
April 22nd:  UT Inventational (2,000m) Austin
April 23rd: Texas Rowing Championships. Austin. (1,000m)
————————————————————-
TTTTTTTTTTTTTTTTTCCCCCCCCCCCCCCUUUUUUUUUUUU
Spring 2016 Events:
1- Feb 6th. SWEAT Indoor Rowing Race. (Dallas)
2- March 5-6. Heart of Texas.  (Austin).
March 7-11.   Spring Break
– March 26th.  University of Texas Rowing Club Invitational.  (Austin)
– April 9th. Baylor Scrimmage  (Waco)
– April 16. Fort Worth Rowing Club Scrimmage.
May 6th: End of year party.
TTTTTTTTTTTTTTCCCCCCCCCCCCCCCCCCCCCCCCCCCCCUUUUUUUUUUUUUUUUUUUUU
Fall 2015 Events:  
Oct 3rd & 4th:  OUs Head Race.  (Plus 500m Sprints under the lights).  OKC
Oct 10th: Head of the Brazos.  Waco/Baylor
Oct 31st: Head of the Colorado.  Austin/UT
Dec 5th: Row HO HO.  Fort Worth
——————————————————
Race Events for Spring 2015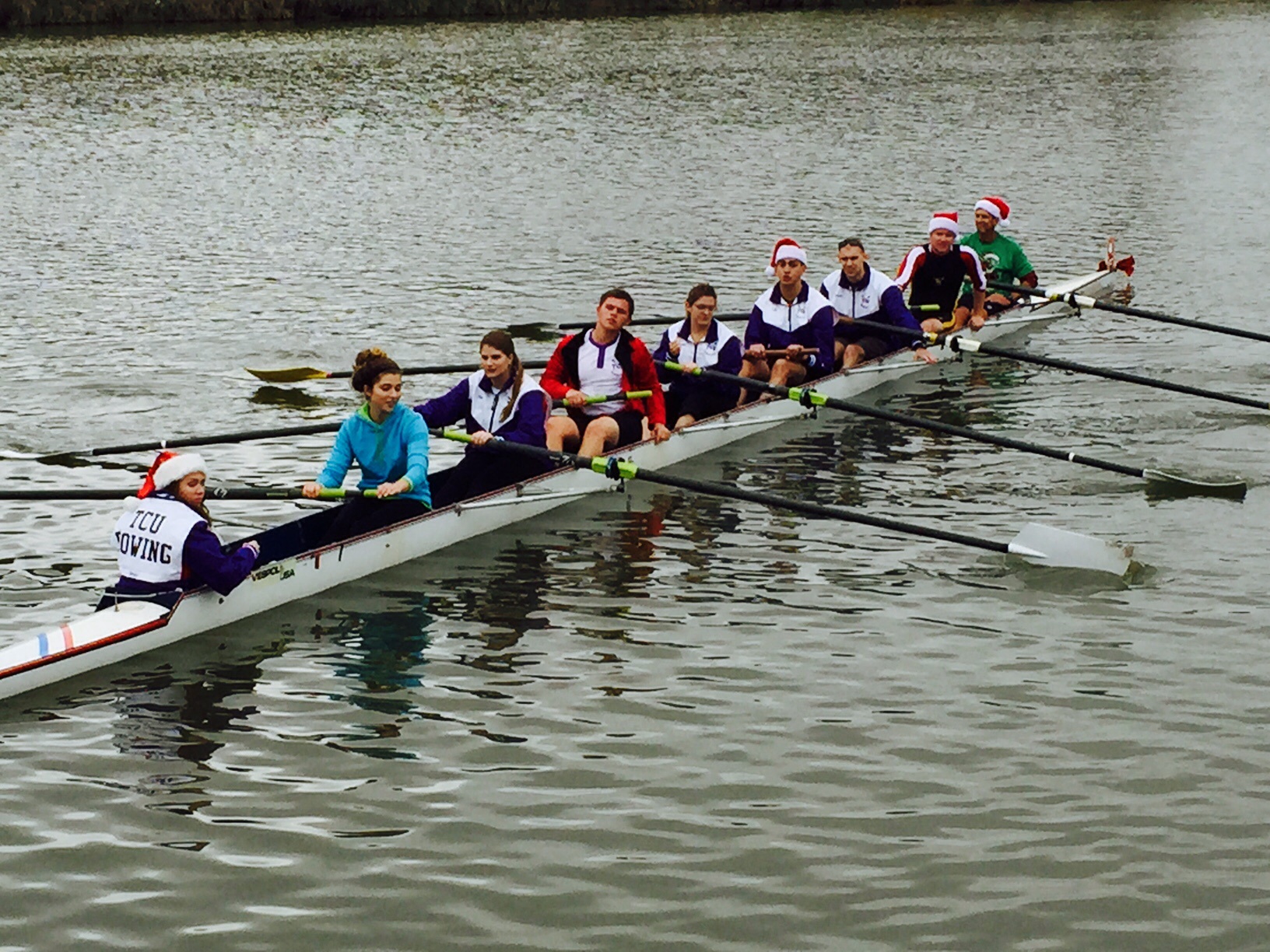 – Feb 7th: SWEAT (Southwest Ergometer Amateur Tournament) Dallas (2,000m ERG). -TCU Received two Golds & toe Silver
-March 21st: BLAST Regatta Changed from Sunday to Saturday!
(Bachman Lake Annual Sprint Trials).  Dallas (1,000m Sprint)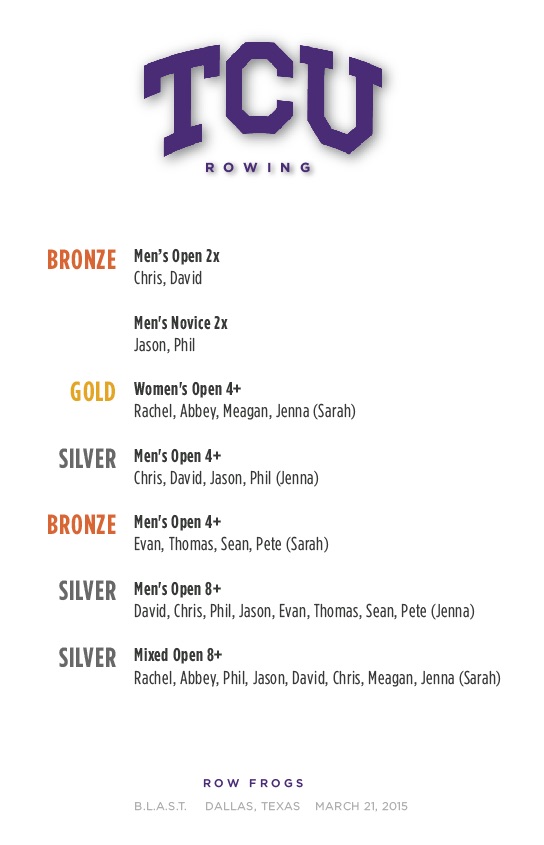 – March 28th: UT Invitational "Red Bud Round Up"
Austin (2,000m) (Thanks to UT for the use of the 8)
<ahref="https://www.tcurowing.com/wp-content/uploads/2015/03/image3.jpg">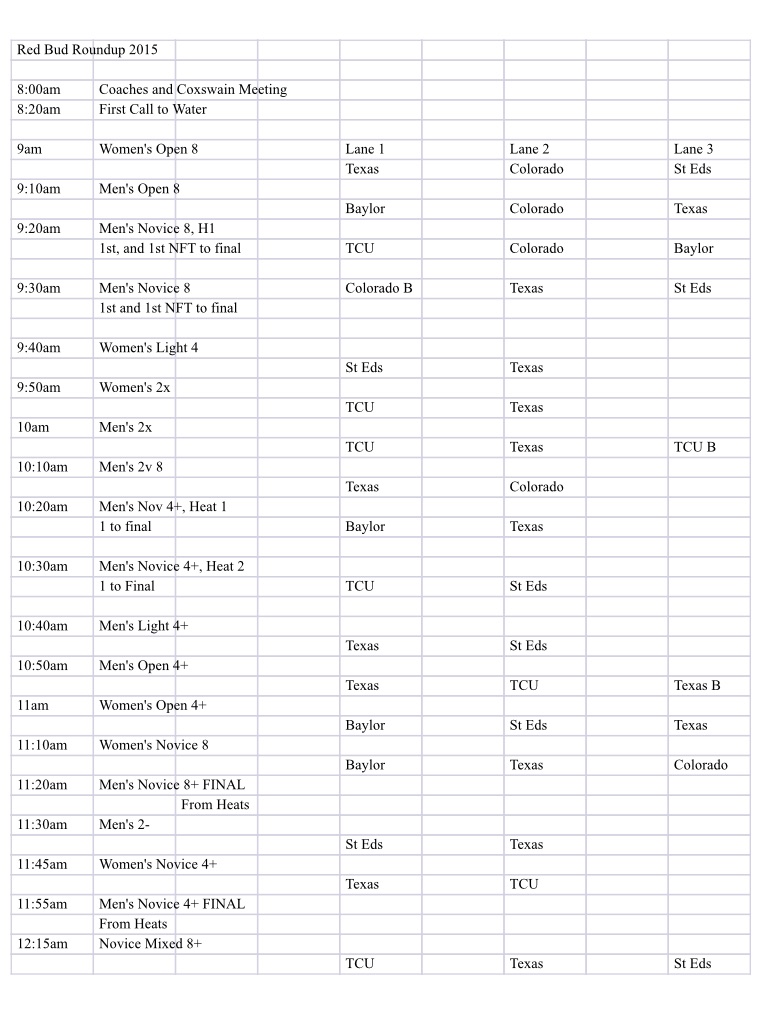 – April 18th-19th*: TEXAS ROWING CHAMPIONSHIP:  Austin TX. (1,000m Sprint)
For Weekly Training Schedule see Calendar page.