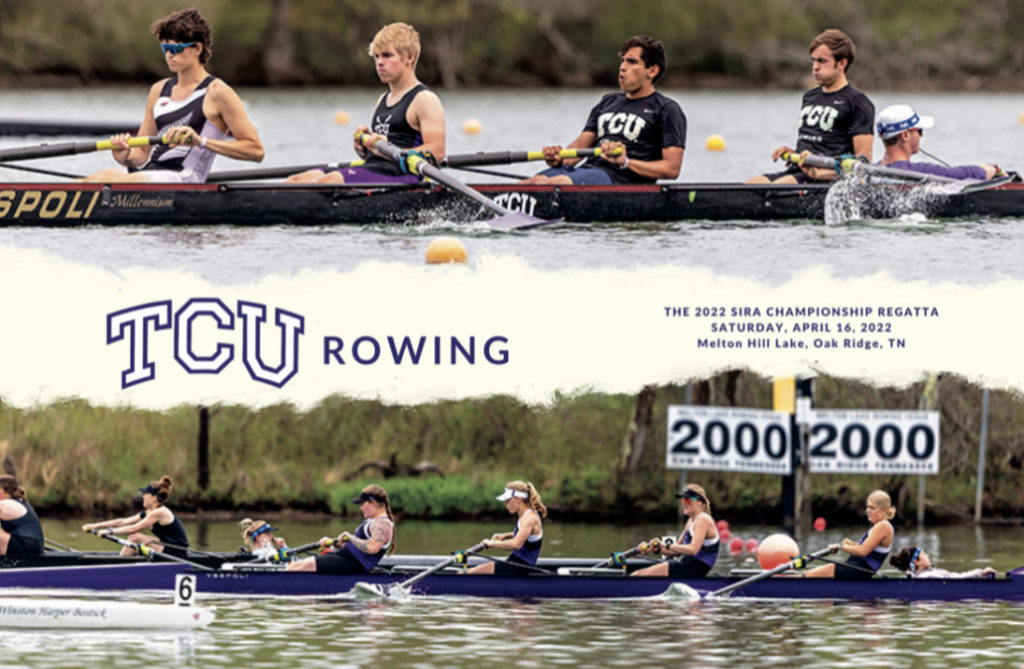 COME VISIT OUR TABLE AT THE TCU REC on Saturday Aug 19th from 2-4pm.
Do you want to represent TCU. Join the Rowing TEAM and compete against UT, Baylor, Texas A&M and other University Rowing Teams in the region.  No rowing experience necessary to join – we will train you!    Please fill out the information below and a coach will contact you to answer any of your questions.
How TCU Rowing fits into US Collegiate Rowing.
TCU is a student lead and run Rowing Program, that utilizes volunteer Coaches from the Fort Worth Rowing Club.  TCU goal is to be the top University Club Rowing Team in Texas.
TCU is part of the American Collegiate Rowing Association (ACRA), which is one of the governing bodies for University Club Rowing Programs in the United States.  ACRA  governs all the Club College Rowing Programs.  The are many well established Club programs that have a full time coaching Staff.
The other two Governing Bodies are:
1- National Collegiate Athletic Association (NCAA):   This is all the Title 9 for "Open Women" Athletic Rowing Programs. Under NCAA rules, Division I and Division II schools can offer scholarships to athletes for playing a sport.
2- Intercollegiate Rowing Association (IRA).  Governs intercollegiate rowing  between varsity  Varsity men's heavyweight, men's lightweight, and women's lightweight rowing programs across the United States.   This is the oldest association and dates back to 1894.  In the IRAs are some of most famous Rowing programs from the North East like Harvard and the North West, like famous Washington Crew who's story was told of them rowing in the 1936 Olympics in "The Boys in the Boat".
🚣🏼‍♂️🚣🏼‍♂️🚣🏼‍♂️🚣🏼‍♂️🚣🏼‍♂️🚣🏼‍♂️🚣🏼‍♂️🚣🏼‍♂️