COMPLIANCE:
The following compliance items need to be accomplished on Commitment Night.
Type TCU for Club affiliation. Our ID # 11120.
Once you have signed up for basic Membership please sign US ROWING Waiver. Code: ZJZSE
Admin Code.  ZJZSE-GY
Make note of your US Rowing Membership.
2-  FWRC has an waiver and safety agreement that is required to be signed.
FWRC WAIVER:
3- TCU Club form and Team contract.
4- Safe Sport: https://www.tcurowing.com/safesport/.
🚣🏼‍♂️🚣🏼‍♂️🚣🏼‍♂️🚣🏼‍♂️🚣🏼‍♂️🚣🏼‍♂️🚣🏼‍♂️🚣🏼‍♂️🚣🏼‍♂️🚣🏼‍♂️🚣🏼‍♂️🚣🏼‍♂️🚣🏼‍♂️🚣🏼‍♂️🚣🏼‍♂️🚣🏼‍♂️🚣🏼‍♂️
Recruiting for Team membership has already started. Once the Team has been selected it will be posted here.   Row Frogs!!
2023-2024: Officers and Coaches are listed below.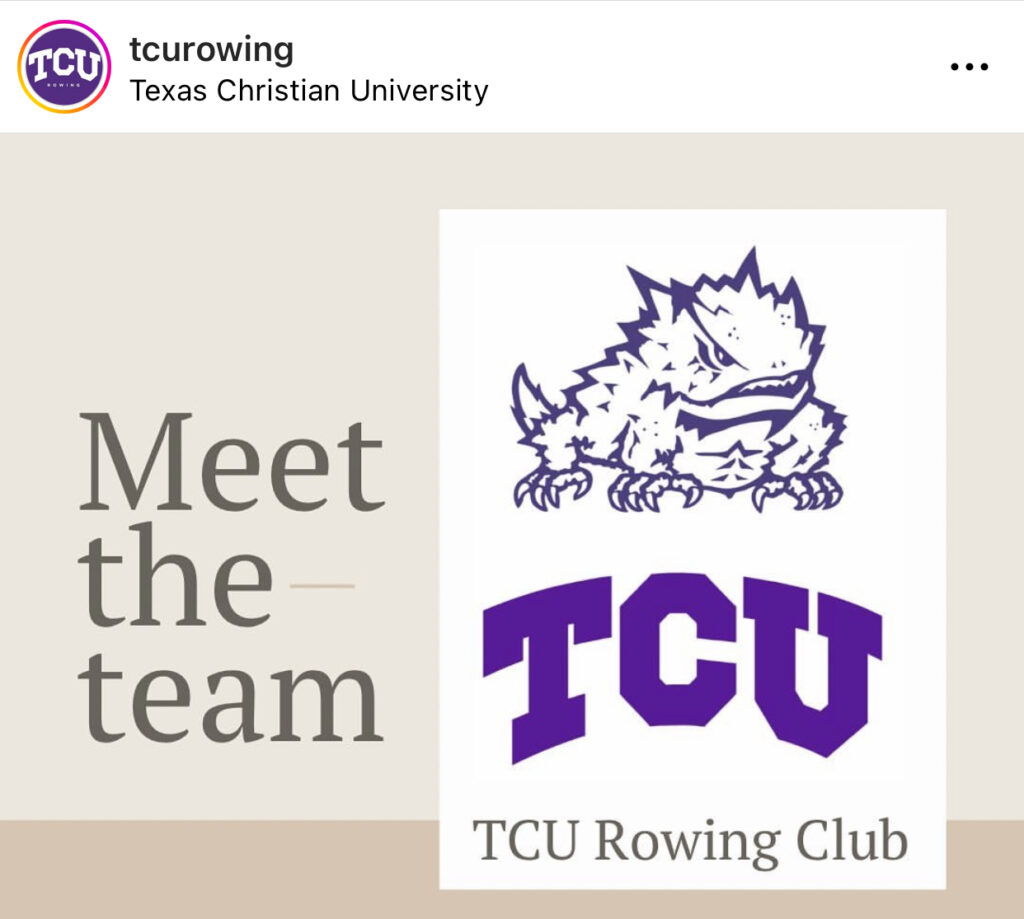 🚣🏼‍♀️🚣🏼‍♀️🚣🏼‍♀️🚣🏼‍♀️🚣🏼‍♀️🚣🏼‍♀️🚣🏼🚣🏼🚣🏼🚣🏼🚣🏼🚣🏼🚣🏼🚣🏼🚣🏼🚣🏼🚣🏼🚣🏼🚣🏼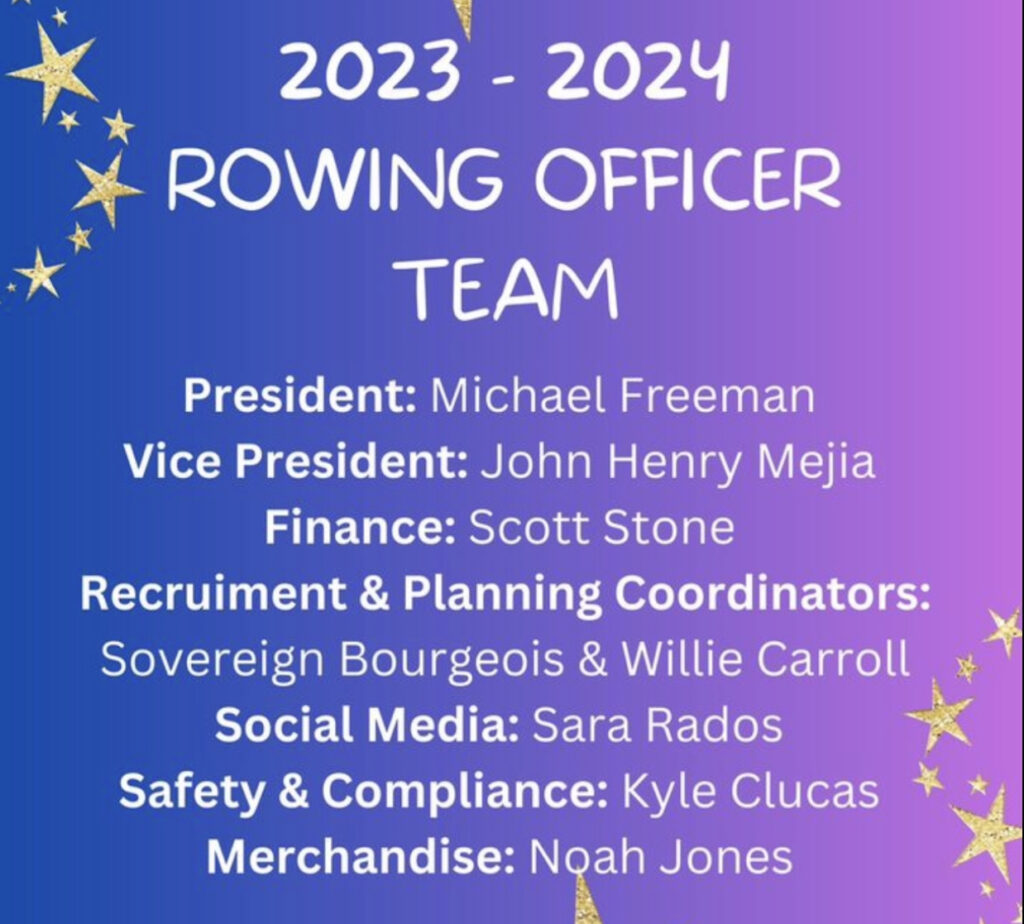 Weekly Scheduling creation Timeline.
Using Spreadsheet.
Tuesday:  Create following Weeks calendar.
Wednesday: Water Coaches verify/add their availability for following week on Spread Sheet)
Thursday- Friday:  have the crew captains fill in their crews 1- water practice times 2- then ERG times.  (Can use the Boathouse App.  Coaches will prioritize crew water schedule.
Saturday:  The water schedule to be approved on Saturday by Sam, Ashley or Pete.
A "student only" water practice can be approved when appropriate.
The ERG Cage schedule and workout should also be posted by Saturday by Willie.
The practice schedule will be set out NLT Saturday evening to the Team.
It is important for Crew Captains (NM, VM, NW, VW) to have rowers find a substitute if they cannot make a water practice. (Initially Sovereign & Willie).

The 2022-2023 Team:

🚣🏼🚣🏼🚣🏼🚣🏼🚣🏼🚣🏼🚣🏼🚣🏼🚣🏼🚣🏼🚣🏼🚣🏼🚣🏼🚣🏼🚣🏼🚣🏼🚣🏼
Past Crews.

2021-2022 Team:
President: Faith V,
Leadership Team: Hugh Londrey, Andrea T,  Avery H, Emily W, John Henry 
Student Coaches:    Luke Pliska (Head/Men's Coach),  Bella Baddour (Women's Coach)              "Student Head Coach":   responsible for coordinating Practice Schedules and logistics.  He/she will communicate directly to all rowers and make sure that each Crew Captain follows up with their specific Crew/s.   Student Head Coach will work with TCU Practice Coordinator to ensure practices have the appropriate level of coaching/safety supervision at each practice with priority give to water practices.
"Student Men & Women Coaches": Coordinate with their Volunteer counterpart (Men/Women Coach) to select and train best crew for TCU.
TEAM ROSTER: 
Women's Crews:    Bella Baddour,  Avery HARRINGTON, Victoria SAUCEDO,  Andrea TREVINO,  Faith VANHAASTER, Sami WOODRING, Emily WHITENIGHT,  Nicole KICZEK, Elsa EMERSON,  Kate SCHIRMER,  Ashlyn FISHER, Marisa Ross,  Marian CARZO,  Sarah JENNINGS.
Men's Crews:     Luke PLISKA,  Hugh LONDREY,   WillIie CARROLL,  Greg GROPPELL, Oliver WOLCOTT,  Daniel LOPEZ,  John Henry MEJIA,  Scott Stone,  Lawson ORRADRE, Parker BURROSS,   Joe HARRIS,  Noah JONES
——————————————————-
XXXXXXXXXXXXXXXXXXXXXXXXXXXXXXXXXX
Volunteer "Non-Student" Coaches:
Pete McIntosh: Head Coach & TCU Rowing Coordinator.
Samuel Barnes: Men's Coach & Practice Coordinator. (Rowed @ TCU)
Ashley Vue: Women's Coach (Rowed @ Washington State)
Austin Lau: Practice Coach (Rowed @ Baylor)
The TCU Rowing Coordinator is responsible for Teams Safety, Equipment, Regatta Logistics, and in conjunction with the Teams Leadership for the Clubs Long Term Strategic Planning.
The TCU Practice Coordinator works with the Student Head Coach to ensure practices have the appropriate level of coaching/safety supervision at each practice with priority give to water practices.  The water practice schedule will be created NLT Sunday so that the Student Coaches and Crew Captains can follow up to make sure the Crews have time to find a substitute if needed.
XXXXXXXXXXXXXXXXXXXXXXXXXXXXXXXXXX

Thanks to all our prior volunteer Coaches.
John Arndt, Levy Bowers, Thomas Guidry, Kevin Fujii, Ryan Rupf, Sean & Megan Callahan, Katie Maciulewicz-Gass.
XXXXXXXXXXXXXXXXXXXXXXXXXXXXXXXXXX
Alumni: here is a list of Crews since the TEAM was formed in 2014:
2020 – 2021Team:
President: Claire Dobbs
Leadership Team: Taylor Kurtz, Annie Ogren, Elissia Hengst, Daniel Roosa, Hugh Londrey.
HeadCoach: Samuel Barnes,
WOMENS TEAM: 
Andrea T, Annie O, Avery H, Bailey M, Charlotte M, Chloe D, Claire D, Elissa H, Emily W, Faith V, Lauren B, Michaela R, Molly R, Olivia G, Sarah J, Victoria S,  Bella B,
MENS TEAM:
Alex E, Daniel R, Gregory G, Hugh L, John Henry , Luke P, Samuel B,  S.J. J, Raul V,  William N,  Taylor K.

2019 Fall Women's Team:
Varsity Women's 4+/X:
Claire Dobbs,  Julia Goodrich,  Chloe Downs,  Charlotte Meyer,  Maria Hruska
Novice Women's 4:
Annie Ogren, Victoria Saucedo, Faith Van Haaster, Elissia Hengst
—————
2019 Fall Men's Team: 
Varsity Mens 4+
Samuel Jenne (SJ), Cannon Echols, Daniel Roosa, Samuel Barnes
Novice Men's 4+
Luke Pliska, Hugh Londrey, Taylor Kurtz, Anthony Georgiev, Jacob DiNatale, Lucas Robinson
Cole Callin*, Johnny Carvalhal
XXXXXXXXXXXXXXXXXXXXXXXXXXXX
Spring 2019 Team:
Men's Crew:  Daniel Rosa, Hardy Stone, Mathew Hall, Samual Jenne (SJ), Sam Barnes
Waylon Widler
Women's Crew:  Chloe Downs, Charlotte Meyer, Claire Dobbs, Issy Munter, Julia Goodrich
Ka Yan Wong, Taylor Moore, Macy Rutledge, Sydney Irvine
XXXXXXXXXXXXXXXXXXXXXXXXXXXX
2018 Crews
Men's Crew:   Adam Bahr, Alby Bounlutay, James Lincoln, Mathew, Sam Barnes
Gilbert
Women's Crew:  Anna Mathews, Carly Glass, Chloe Downs, Claire Dobbs
Diana Plum, Elissia Rios, Issy Munter, Julia Goodrich, Macy Rutledge, Sydney Irvine
XXXXXXXXXXXXXXXXXXXXXXXXXXXX
Spring 2017 TCU Rowing Team:
Men's Crew:  James Lincoln, Alby Alby Bounlutay, Alec Laurenti, Neil Gallagher
Nick Ruffcorn, Reece Gilmore, Zachary Taitano
Women's Crew:  Rachel Bynum, Diana Plum, Galilea Monterroso, Ashley Goryl
Carly Glass, Julia Goodrich, Mai Nguyen, Remi Swenson, Krista Burdick
---
PLEASE JOIN/RENEW US ROWING MEMBERSHIP & Sign WAIVER.
NEW ROWERS.
Please join US Rowing: https://membership.usrowing.org/individual/join
Please also sign Waiver: Code: ZJZSE