No equipment, No problem: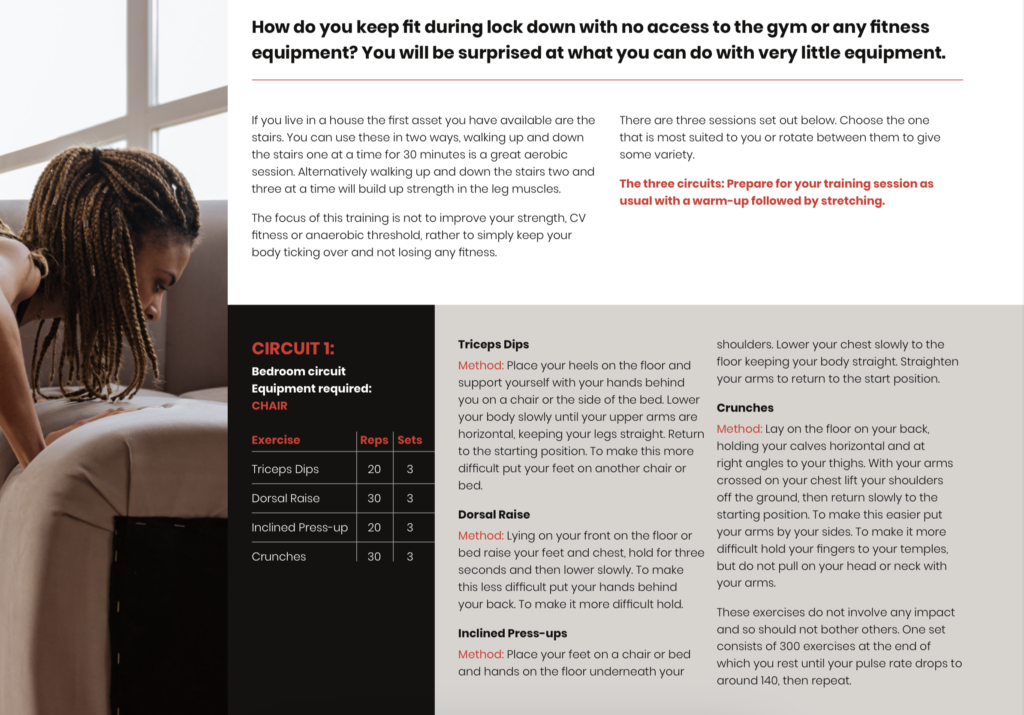 Stretch and Warm up for at least 10′ before each and every workout.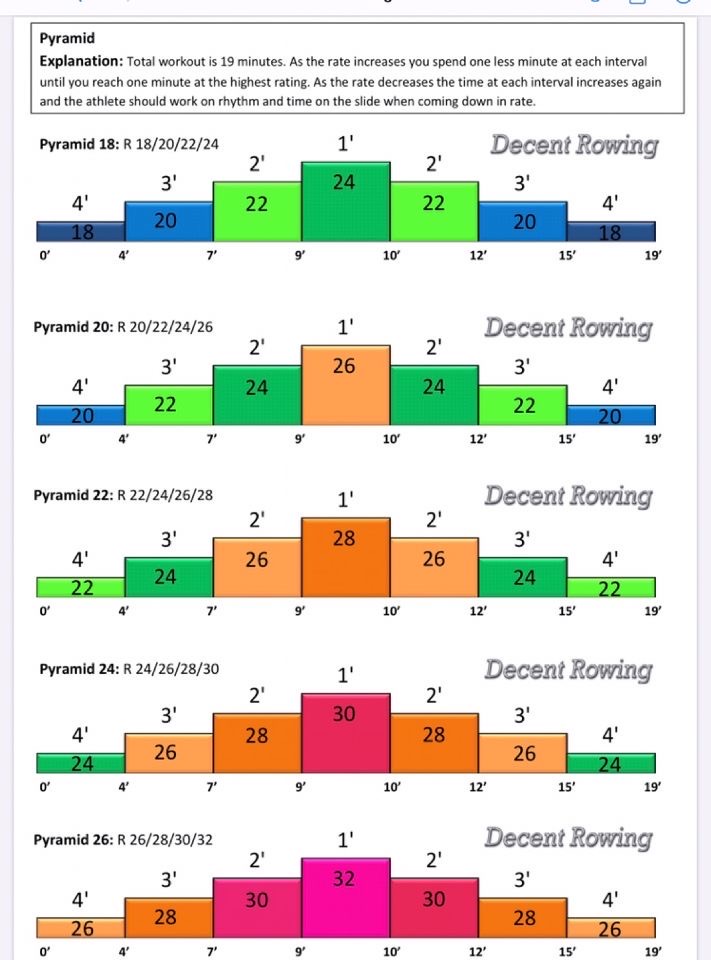 Here's a warm-up sample:
0.5 Arms only for 30″
1 Arms and body for 30″
1.5 Arms, body, half slide 30″
2 Now full slide (full compression) rowing lightly for 30″ at an 18 stroke rate (SPM). Focus on quick drive, slow recovery.
3 Power 10 strokes at 20 SPM, off (paddle) for 10
4 Power 20 strokes at 20 SPM
5 Paddle for 10, Power 10 at 20 SPM
6 Bring up SPM to 24 for 1′. Focusing on getting knees down fast. Your recovery is now slower.
7 Power 10 at 24, off for 14 strokes
8 Power 20 at 26, off for 6 strokes
9 Power 20 at 28, off for 8 strokes
Your team leaders should have shown you how to set up your erg monitor and set your drag. If the latter hasn't taken place, set the fan resistance between 3 and 4.
Here are your erg workouts. You should not be able to talk during and after these workouts. If you can, you could have gone harder. Trust is a huge priority for a rowing crew. Don't be the rower in your boat whom your crew mates won't trust because they think you could have put in more effort.
2 x 20′ with 7′ rest: 4 segments of 4′ on, 1′ off (at full pressure, the hardest pressure you can maintain for all-out efforts at four minutes, four times with only a one minute light rowing between each set of four minutes.) Your one-minute off is at a very light pressure. You must maintain proper form, posture and technique during the entire piece (workout), but most importantly during the one-minute off.
4 x 6′ with 3′ rest
3′ at 22 spm at 2k + 17″ (If you haven't done a 2k erg test, don't worry, you will eventually. If you don't have a 2k split (average pace of 500m over the course of 2000m) find your splits during the last half of your warm up.
2′ at 25 spm at 2k +8″
1′ at 28 spm at 2k pace or less
Record your splits! This will show you improvements on technique and fitness through the season. Use this Google Spreadsheet. The women are listed on top. Keep adding rows and leave two rows between women and men.
https://docs.google.com/spreadsheets/d/1wEJY1FhxWmDmxatEiFCgR_vItjuE5d5vRa8etHpX1dU/edit#gid=0
An easy way to do this is to photograph your erg monitor. Inline image 2 Then fill in your average splits on the google doc (seen here between the lines, 1:59.8.
Some videos to watch:
Starts with grip: https://youtu.be/A8QU60r5Vdo
Correct rowing/erging technique: https://youtu.be/zQ82RYIFLN8
Common rowing/erging errors and fixes: https://youtu.be/oP6OR-G7AxM
Let me know if you have any questions.
-Coach Pete
ERG workout: TCU Students working out in the "ERG CAGE"