TEAM Training Videos:
1- Mastering technique on the ERG:
https://www.decentrowing.com/beginner-program-l1.html
2-  WATER Practice:  How to Handle the sweep oar. https://youtu.be/B-YGt63orY0
Practices will be held several weekday evenings per week, as well as on Saturday mornings and Sunday evening.   Team members can find specific times and locations on the Team's "Group Me".
🚣🏼🚣🏼🚣🏼🚣🏼🚣🏼🚣🏼🚣🏼Weekly Scheduling creation Timeline.🚣🏼‍♀️🚣🏼‍♀️🚣🏼‍♀️🚣🏼‍♀️🚣🏼‍♀️🚣🏼‍♀️🚣🏼‍♀️🚣🏼‍♀️
Tuesday:  Create following Weeks calendar.
Wednesday: Water Coaches verify/add their availability for following week on Spread Sheet)
Thursday- Friday:  have the crew captains fill in their crews 1- water practice times 2- then ERG times.  (Can use the Boathouse App.  Coaches will prioritize crew water schedule.
Saturday:  The water schedule will be approved on Saturday by Sam, Ashley or Pete.
The ERG Cage schedule and workout should also be posted by Saturday by Willie.
The practice schedule will be set out NLT Saturday evening to the Team.
🚣🏼‍♂️🚣🏼‍♂️🚣🏼‍♂️🚣🏼‍♂️🚣🏼‍♂️🚣🏼‍♂️🚣🏼‍♂️🚣🏼‍♂️🚣🏼‍♂️🚣🏼‍♂️🚣🏼‍♂️🚣🏼‍♂️🚣🏼‍♂️🚣🏼‍♂️🚣🏼‍♂️🚣🏼‍♂️🚣🏼‍♂️🚣🏼‍♂️🚣🏼‍♂️🚣🏼‍♂️🚣🏼‍♂️🚣🏼‍♂️🚣🏼‍♂️🚣🏼‍♂️🚣🏼‍♂️🚣🏼‍♂️🚣🏼‍♂️🚣🏼‍♂️🚣🏼‍♂️🚣🏼‍♂️
——Typical Novice Water Practice—-
1- Have a seating plan.  If winds are high have an experience bow rower and Cox.   Make sure crew stretches prior to getting the boat.   If it's a novice crew make sure they understand exactly what they will be doing prior to getting on water.  Use of the ERG or dock rowing will help greatly.  (Example: if going to do the pause drill, demo and have them do it on ERG first).
2-   Once boat is on the water take the time to make sure equipment (foot stretchers) are set up correctly, and they know how to properly set the boat and where the ideal "body positions" are for the catch and finish.  Emphasis to the crew to listen to the coxes commends and focus on balance in the boat.
3-  Water warm up with Pick drill:   Half the boat setting while the others do the Pick Drill on the square. Once at full stroke, have them alternate every third stoke between Square and Feathering. Switch roles and have the other half row.
4-   Main Workout:  Being a Novice Crew they will primarily be focused on Balance and timing drills.  Utilize the drills from the TCUs LTR Course.  More advanced crews will utilize the Race training workout plan.
5- Docking:  If your with a novice crew and winds are high, it is important to practice backing into the dock.  It's also good to have the crew do an "emergency row away" if you overshoot the dock.
6-  Debrief:  Good point, bad points, ways to improve.  Ask each rower what they learnt and end on a positive note.   Practice is not over until all equipment is safely back in the shed.
Sub tab/pages contain more specific training programs.
🚣🏼🚣🏼🚣🏼🚣🏼🚣🏼🚣🏼🚣🏼🚣🏼🚣🏼🚣🏼🚣🏼🚣🏼🚣🏼🚣🏼🚣🏼
Water practices are either a short drive north on Marine Creek Lake, or an even shorter drive east to the Trinity River @ Beach St. (both highlighted below).   The car pooling meeting place is usually in front of the BLUU:  (30 minutes before practice for MCL.  15 minutes before practice for Beach St.
TCU holds water practice at Marine Creek Lake (Top photo) on the north side of Fort Worth or @ Beach St.,  which also offers a great location for ERG/landing training with COVID restrictions in the TCU "ERG CAGE".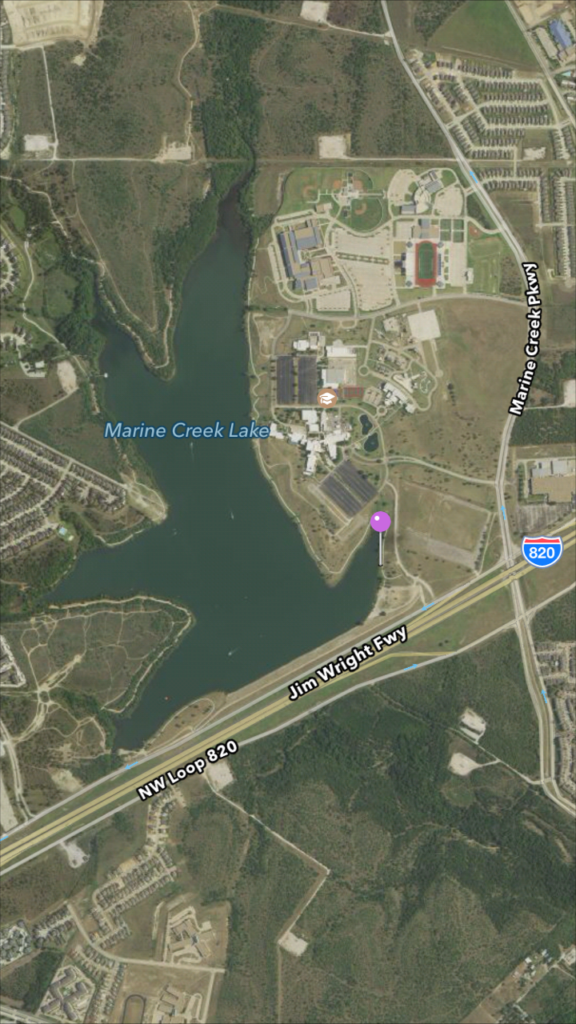 Photo is of The Trinity River with Down Town Fort Worth in the background.  Depending on weather and needs for a specific practice we utilize both locations.