Fall 2020 Training is primarily being accomplished in 1X, to keep in line with TCU & US Rowing COVID guidelines.
Our Long Term Fall training plan is made of two Parts:
Part One:  Basic Sculling:
Rowers will qualify in 1X after completing the following training, and accomplishing "THE DAM RUN".
1- ERG Technique:  Highlight Proper technique & improve conditioning. 
2- Dock Rowing
     – light grip, hand position
     – lazy feather
    –  backing, docking, river turn.
3- Flip Training: MCL: get back in, rescue drill
4- Wind assessment:  avoid shore, docking
5- 1X Distance Row/Navigation:  Proper lookout, able to turn/steer and follow traffic Pattern. 

6- Final step to get 1X Certified is accomplish a "Dam Run", demonstrating all the skills listed above.
——————————————————-
Part Two: Racing Training
Rowers will progress through the each level of the "Dam Challenge".
1- Obtain "Bronze Status". Return nonstop from the Dam.  Learn to use various training aids like the. Speed Coach.
2- Progress from lazy feather to blades off water, prior to advancing to next level of boat, or raising pontoons.  "As you move up in levels of boats you will also improve your "Silver & Goal Dam Challenge" results. 
3- We will use video footage to improve on water technique to improve stroke efficiency .  Goal is to reduce the "deviation" (time difference) between ERG times & Water times for 3,000m and eventually 6,000m.
4- Racing Preparation:  Learn the rules of racing and develop a specific race plan.  How to navigate the river (Below is a map of the OKC race and the 10+ bridges).  Row "your" own Race, using target ratings and split times.
---
                                          SAFETY IS OUR TOP PRIORITY. 
Following these safety guideline will help ensure for a safe operation.  As always make sure to also follow COVID protocols.
1-  Weather: always check the forecast.  Even though it may look "nice" storms can pop up quickly.
2-  Winds:   High winds can produce waves and make docking difficult, especially in 1X.  Beach St. is more protected the Marine Creek Lake. Wind direction is also an important factor.  Coaches will make the call if it's safe to row and specifically where rowing will take place.
3- Safety Officer, must be present at every practice.  When out on the water alway use the buddy system and never, row off on your own.
4- Life Jackets: All rowers who are not 1X Certified will wear a life jacket when rowing at Beach St.  Rowers who have not done Flip Training will also wear a life jacket (both locations).
5- Where to row.  Unless your with a Coach do not go past the Riverside Bridge at Beach St or out of the view of the dock at Marine Creek Lake.
6-  No Rowing 1X in the dark.   Must be off the water 15 minutes after official sunset.
7- Traffic Pattern and lookout.  At Beach St keep your starboard side (green) closest to shore. Always take a look behind you before you start rowing and every 5 or 6 strokes, especially at Marines Creek Lake with so many boats.
This is the OKC RACE COURSE:  Steering and lookout are essential to being safe and getting your fastest time down the race course.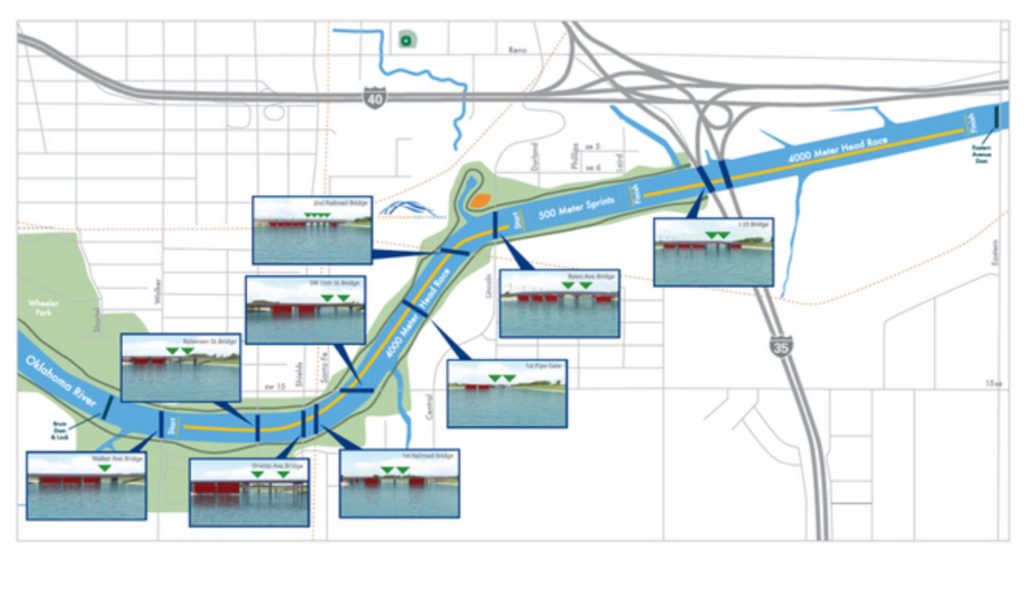 Weight training is not formally part of our program.  Students are encouraged to get proper instruction from the TCU Rec if they plan to do it on their own.  We do recommend lower weights with higher number of reps.
Here are some simple workouts to improve flexibility and a stronger core:
front plan
bicycles
left-side plank
alternating toe touches
right-side plan
Core:  mountain climbers (core)
regular, front plank (legs)
bicycles (core)
right-side plank (legs)
cherry pickers (seated on floor, knees bent, feet off ground, turning shoulders fully past midline (belly button), touching the ground on each side of the body with both hands) (core)
left-side plank (explosive, must land softly) (legs)
Knees to elbows (Spider Mans WITH push ups) (in high plank position, right knee to right elbow lower self to lowest push-up position with three points of contact on the ground and up, left knee to left elbow lower self to lowest push-up position with three points of contact on the ground and up) (core)
wall sit (legs). penguins (core)